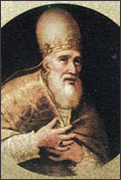 BC 36–Antonia Minor, daughter of Mark Antony, is born in Athens, Greece. She never had the chance to know her father, who divorced her mother in BC 32 and committed suicide in BC 30. Antonia was a niece of the Emperor Augustus, sister-in-law of the Emperor Tiberius, paternal grandmother of the Emperor Caligula and Empress Agrippina the Younger, mother of the Emperor Claudius, and both maternal great-grandmother and paternal great-aunt of the Emperor Nero.
314–Silvester I begins his reign as Pope of the Catholic Church, succeeding Pope Miltiades.
876–Frankish Queen Hemma of Altdorf dies after suffering a stroke in Regensburg, Bavaria, at age 68.
877–Taejo of Goryeo is born Taejo Wang Geon in in North Hwanghae Province, North Korea. He was the founder of the Goryeo Dynasty, which ruled Korea from the 10th to the 14th century.
1216–Theodore II of Constantinople dies.
1398–Emperor Suko of Japan dies at age 63.
1435–Emperor Xuande of China dies in Jingling, Beijing, at age 35.
1504–France cedes Naples to Aragon.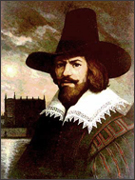 1512–Henry, King of Portugal, is born in Lisbon, Kingdom of Portugal. He ruled Portugal between 1578 and 1580, and was known as Henry the Chaste.
1578–During the Eighty Years' War and the Anglo-Spanish War, the Battle of Gembloux takes place at Gembloux, near Namur, Low Countries, between the Spanish forces, led by Don John of Austria, Governor-General of the Spanish Netherlands, and a rebel army composed of Dutch, Flemish, English, Scottish, German, French, and Walloon soldiers, under Antoine de Goignies.
1580–Henry, King of Portugal, dies on his birthday in Almeirim, Kingdom of Portugal, at age 68.
1606–Guy Fawkes, who had been convicted in the "Gunpowder Plot," is executed by hanging in Westminster, London, England, at age 35.
1627–The government of Spain goes bankrupt.
1734–Merchant, Robert Morris, one of the signers of the Declaration of Independence, is born.
1747–The first venereal diseases clinic opens in England at London Lock Hospital.
1788–Charles E. Stuart (Bonnie Prince Charlie), English pretender to the throne, dies in Palazzo Muti, Rome, Italy, at age 67.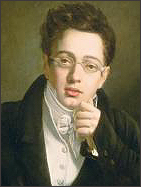 1797–Composer, Franz (Peter) Schubert, is born in Lichtenthal, Austria. His output consists of over 600 secular vocal works, seven complete symphonies, sacred music, operas, incidental music, and a large body of chamber and piano music. Schubert is ranked among the greatest composers of the early Romantic era.
1801–John Marshall is appointed the Chief Justice of the United States.
1814–Gervasio Antonio de Posadas becomes the Supreme Director of Argentina.
1835–Lunalilo of Hawaii is born William Charles Lunalilo at Pohukaina in Honolulu, Oahu, Hawaii. He was the most liberal king in Hawaiian history, but was its shortest-reigning monarch: he was King for one year and 25 days.
1846–After the Milwaukee Bridge War, Juneautown and Kilbourntown unify as the City of Milwaukee.
1848–John C. Frémont is court-martialed for mutiny and disobeying orders.
1849–Corn Laws are abolished in the United Kingdom pursuant to legislation in 1846.
1851–Gail Borden presents his invention of evaporated milk.
1856–Khedrup Gyatso, the 11th Dalai Lama, dies suddenly in Lhasa, Tibet, at age 17. He was recognized as the 11th Dalai Lama in 1840, having come from the same village as Kelzang Gyatso, the 7th Dalai Lama.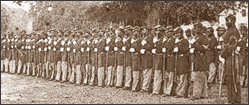 1861–The State of Louisiana takes over the U.S. Mint located in New Orleans.
1862–Alvan Graham Clark discovers the white dwarf star Sirius B, a companion of Sirius, through an 18.5-inch telescope, which is now located at Northwestern University.
1863–The first black Civil War regiment, South Carolina Volunteers, becomes a part of the U.S. Army.
1865–The U.S. Congress passes the 13th Amendment, abolishing slavery in America. The vote was 121-24.
1865–General Robert E. Lee is named Commander-in-Chief of the Confederate Armies during the Civil War.
1865–Henri Desgrange, founder of the Tour-de-France, is born in Paris, France.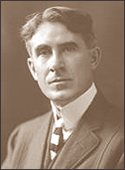 1871–Millions of birds fly over western San Francisco, California, darkening the sky.
1872–Western novelist, (Pearl) Zane Grey, is born in Zanesville, Ohio. He wrote more than 90 novels which sold millions of copies around the world. All of his novels were written in longhand. He is best known for
Riders of the Purple Sag
e. Many of his novels were made into highly successful movies: as of 2012, 112 films, two TV episodes, and a TV series,
Dick Powell's Zane Grey Theater
, had been produced. His works include
The Last of the Plainsman, The Rainbow Trail, The Mysterious Rider, The Call of the Canyon, West of the Pecos, Shadow on the Trail,
and
The Maverick Queen
.
1874–The notorious Jesse James Gang robs a train in Gads Hill, Missouri.
1876–The United States orders all Native Americans to relocate onto designated "reservations."
1891–The first attempt at a Portuguese republican revolution breaks out in the northern city of Porto.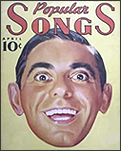 1892–Vaudeville performer, Eddie Cantor, is born Edward Israel Iskowitz in New York, New York. His eye-rolling song-and-dance routines eventually led to his nickname, "Banjo Eyes." His hit songs include
Makin' Whoopee, Ida, If You Knew Susie, Ma! He's Makin' Eyes at Me, Margie,
and
How Ya Gonna Keep 'Em Down on the Farm (After They've Seen Paree)?
He appeared in the films
Whoopee!, Roman Scandals, Kid Millions, Hollywood Canteen,
and
If You Knew Susie
.
1897–The Czechoslav Trade Union Association is founded in Prague.
1900–Datu Muhammad Salleh is killed in Kampung Teboh, Tambunan, ending the Mat Salleh Rebellion.
1902–Actress, Tallulah (Brockman) Bankhead, is born in Huntsville, Alabama. She was known for her throaty, sophisticated delivery of dialogue. She always called everyone "Dahling." She appeared in the films
Tarnished Lady, Make Me a Star, Devil and the Deep, Stage Door Canteen, Lifeboat,
and
Die! Die! My Darling
. Tallulah hailed from the Brockham Bankheads, a prominent Alabama political family: her grandfather and uncle were U.S. Senators and her father served as Speaker of the House of Representatives.
1903–Publisher, Gardner Cowles, is born in Iowa. He would become the founder of
Look
magazine.
1905–The first automobile to exceed the speed of 100 mph, is driven by A.G. MacDonald at Daytona Beach, Florida.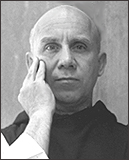 1905–Author, John (Henry) O'Hara, is born in Pottsville, Pennsylvania. He first earned a reputation for short stories, then later became a best-selling novelist before the age of 30, with
Appointment in Samarra
and
Butterfield 8
.
1906–An 8.8 earthquake shakes Ecuador.
1912–A 7.0 earthquake occurs in Prince William Sound, Alaska.
1915–In World War I, Germany is the first to make large-scale use of poison gas in warfare against Russia in the Battle of Bolimów.
1915–Trappist monk, poet, and essayist, Thomas Merton, is born in Prades, Pyrénées-Orientales, France. Merton wrote more than 70 books, mostly on spirituality, social justice, and a quiet pacifism, as well as scores of essays and reviews.
1915–TV personality and game show host, Garry Moore, is born Thomas Garrison Morfit in Baltimore, Maryland. He became the host of the popular 1950s game shows
I've Got a Secret
and
To Tell the Truth,
as well as his own weekly entertainment series
The Garry Moore Show
.
1917–Germany announces that its U-boats will resume unrestricted submarine warfare after a two-year hiatus.
1918–A series of accidental collisions on a misty Scottish night leads to the loss of two Royal Navy submarines with over 100 lives, and damage to another five British warships.
1919–The Battle of George Square takes place in Glasgow, Scotland.
1919–Jackie Robinson, the first black major league baseball player, is born Jack Roosevelt Robinson in Cairo, Georgia. Robinson was inducted into the Baseball Hall of Fame in 1962.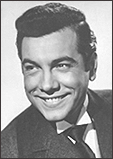 1920–The first Ukrainian daily newspaper in America begins publication in New York.
1921–Actor, John Agar, is born John George Agar, Jr. in Chicago, Illinois. He appeared in the films Fort Apache, Sands of Iwo Jima, She Wore a Yellow Ribbon, The Rocket Man, Revenge of the Creature, Tarantula, The Mole People, The Brain from Planet Arous, Attack of the Puppet People, Johnny Reno, Women of the Prehistoric Planet, Chism, Big Jake, King Kong, and Miracle Mile. He was married to actress, Shirley Temple.
1921–Tenor singer and actor, Mario Lanza, is born. He was thought to be the last of the great romantic performers. He was signed by head of MGM, Louis B. Mayer, in 1947. His most popular song was
Be My Love
.
1922–A 7.3 earthquake occurs west of Eureka, California.
1922–Actress, Joanne Dru, is born Joan Letitia LaCock in Logan, West Virginia. She appeared in the films
Red River, All the King's Men, She Wore Yellow Ribbon, Wagon Master, Thunder Bay,
and
3 Ring Circus
. She was married to singer, Dick Haymes, and actor, John Ireland. Her brother was TV game show host, Peter Marshall.
1923–Novelist, Norman (Kingsley) Mailer, is born in Long Branch, New Jersey. He had his first bestseller,
The Naked and the Dead
, which was based upon his experiences in the Philippines in World War II, at the age of 25. He won the 1968 Pulitzer Prize for non-fiction for
Armies of the Night
, a narrative about the anti-war march on the Pentagon, and the 1980 Pulitzer Prize for fiction for
The Executioner's Song
, which chronicled the life and death of convicted killer Gary Gilmore.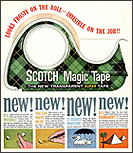 1927–Norm Prescott, co-founder Filmation Studios, is born Norman Zachary Pransky in Boston, Massachusetts. Filmations productions include
The New Adventures of Superman, The Archie Show, Fat Albert and the Cosby Kids,
and
The Brady Kids
.
1929–The Soviet Union exiles Leon Trotsky.
1929–Actress, Jean (Merilyn) Simmons, is born in Lower Holloway, London, England. She worked in both England and America, and her films include
Black Narcissus, Hamlet, Angel Face, Affair with a Stranger, The Robe, The Actress, She Couldn't Say No, Guys and Dolls, Hilda Crane, Until They Sail, Home Before Dark, Elmer Gantry, Spartacus, Life at the Top, Mister Buddwigg, The Happy Ending,
and
How to Make an American Quilt
.
1930–Scotch tape is introduced in the U.S. by the 3M Company.
1932–Record producer, Rick Hall, is born Roe Erister Hall in Tishomingo County, Mississippi. He is the owner and founder of the legendary Muscle Shoals Studios in Alabama. The studio produced hits for Tommy Roe, Joe Tex, Percy Sledge, Wilson Pickett, James and Bobby Purify, Aretha Franklin, Clarence Carter, and Otis Redding.
1934–President Franklin D. Roosevelt devalues the dollar in relation to gold at $35 per ounce.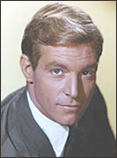 1934–Actor, James (Grover) Franciscus, is born in Clayton, Missouri. He starred in two TV series,
Mr. Novak
and
Longstreet
. He appeared in the films
When Time Ran Out, The Greek Tycoon, Youngblood Hawke, Beneath the Planet of the Apes, Marooned,
and
The Valley of Gwangi
.
1937–Philip Glass, one of the most prolific of the American Minimalist school composers, is born in Baltimore, Maryland.
1937–Actress, Suzanne Pleshette, is born in Brooklyn Heights, New York. She is best known for co-starring in the TV sitcom
The Bob Newhart Show
. She appeared in the films
The Geisha Boy, Rome Adventure, 40 Pounds of Trouble, The Birds, Youngblood Hawke, A Rage to Live, The Ugly Dachshund, Nevada Smith, Mister Buddwing, Support Your Local Gunfighter,
and
The Queen of Mean
.
1938–Beatrix of the Netherlands is born Beatrix Wilhelmina Armgard at Soestdijk Palace, Baarn, the Netherlands. She reigned as Queen of the Netherlands from 1980 until her abdication in 2013.
1938–Actress, Lynn Carlin, is born Mary Lynn Reynolds in Los Angeles, California. She was cast in the TV series
James at 15
(later,
James at 16
). She appeared in the films
Faces, ...tick...tick...tick..., Wild Rovers, The Morning After, Dawn: Portrait of a Teenage Runaway,
and
French Postcards
.
1940–Actor, Stuart Margolin, is born in Davenport, Iowa. He is best known for the role of Angel in the TV series
The Rockford Files
. He appeared in the films
Women of the Prehistoric Planet, Kelly's Heroes, Death Wish, Futureworld, S.O.B.,
and
Class
.
1941–Joe Louis knocks out Red Burman in Round 5, capturing the Heavyweight Boxing Championship.
1941–Politician, Dick Gephardt, is born Richard Andrew Gephardt in St. Louis, Missouri. He served as a U.S. Representative from Missouri from 1977 to 2005. A member of the Democratic Party, he was House Majority Leader from 1989 to 1995, and Minority Leader from 1995 to 2003. He ran unsuccessfully for the Democratic nomination for President of the United States in 1988 and 2004.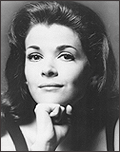 1941–Actress, Jessica Walter, is born in Brooklyn, New York. She has appeared in the films
Lillith, Grand Prix, The Group, Play Misty for Me, The Flamingo Kid, Tapeheads,
and
Dummy
. She is married to actor, Ron Leibman.
1942–Allied forces are defeated by the Japanese at the Battle of Malaya, retreating to the island of Singapore.
1943–German Field Marshal Friedrich Paulus surrenders to the Soviets at Stalingrad, followed two days later by the remainder of his Sixth Army, ending one of the war's fiercest battles.
1944–"Operation Overlord" (D-Day) is postponed until June.
1944–American forces land on Kwajalein Atoll and other islands in the Japanese-held Marshall Islands.
1944–During the Anzio campaign, the 1st Ranger Battalion (Darby's Rangers) is destroyed behind enemy lines in a heavily outnumbered encounter at Battle of Cisterna, Italy.
1945–U.S. Army private, Eddie Slovik, is executed for desertion. It is the first execution of an American soldier since the Civil War.
1945–About 3,000 inmates from the Stutthof concentration camp are forcibly marched into the Baltic Sea at Palmnicken (present-day Yantarny, Russia) and executed.
1946–Yugoslavia's new constitution, modeling that of the Soviet Union, establishes six constituent republics: Bosnia and Herzegovina, Croatia, Macedonia, Montenegro, Serbia. and Slovenia.

1946–The Democratic Republic of Vietnam introduces the dong to replace the French Indochinese piastre at par.
1946–Terry Kath, guitarist with Chicago, is born in Chicago, Illinois. Kath was regarded as Chicago's bandleader and best soloist. His vocal, jazz, and hard rock influences were integral to the band's sound. With the group he had the 1976 #1 single
If You Leave Me Now
.
1947–Baseball player, Nolan Ryan, is born Lynn Nolan Ryan, Jr. in Refugio, Texas. Nicknamed "The Ryan Express," is a former Major League Baseball pitcher and a previous CEO of the Texas Rangers. He pitched for four different teams: the New York Mets, the California Angels, the Houston Astros, and the Texas Rangers. He was inducted into the Baseball Hall of Fame in 1999.He later became an executive adviser to the owner of the Houston Astros.
1949–
These Are My Children
debuts, becoming the first daytime drama on TV, broadcast by NBC-TV in Chicago, Illinois. Later these extremely popular daytime series would be dubbed "soap operas," and that nickname would stick with the the genre into the 21st century.
1949–Ken Wilber, sociologist, philosopher, and author, is born Kenneth Earl Wilber II in Oklahoma City, Oklahoma. He has written and lectured about philosophy, sociology, ecology, developmental psychology, spirituality, and mysticism. His work formulates what he calls Integral Theory. In 1998, he founded the Integral Institute. One of Wilber's main interests is in mapping what he calls the "neo-perennial philosophy," an integration of some of the views of mysticism typified by Aldous Huxley's,
The Perennial Philosophy,
with an account of cosmic evolution akin to that of the Indian mystic, Sri Aurobindo. His works include The Spectrum of Consciousness, Up from Eden: A Transpersonal View of Human Evolution, and
A Brief History of Everything
.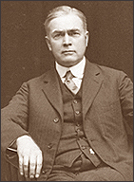 1950–President Harry Truman authorizes the development of the hydrogen fusion bomb.
1951–Harry Wayne Casey, lead singer of KC and the Sunshine Band, is born in Opa-locka, Florida. The band's hits include
Get Down Tonight, That's the Way I Like It, (Shake, Shake, Shake) Shake Your Booty, I'm Your Boogie Man, Keep It Comin' Love,
and
Boogie Shoes
.
1952–Harry Heilmann and Paul Waner are elected to the Baseball Hall of Fame.
1953–A North Sea flood causes over 1,800 deaths in the Netherlands, and over 300 in the United Kingdom.
1954–Edwin H. Armstrong, inventor of FM radio, dies by jumping from his apartment window in New York, New York, at age 63. Armstrong was financially broke and mentally beaten, after years of legal wranglings with RCA and others over his invention. Armstrong had received a patent on wide-band FM radio on December 26, 1933.
1955–Electronics pioneer RCA demonstrates the first music synthesizer.
1955–John R. Mott, theologist and founder of the Y.M.C.A. (Young Mens Christian Association), dies at age 89. He won the Nobel Peace Prize in 1946.
1956–Juscelino Kubitschek becomes the President of Brazil.

1956–Guy Mollet becomes the Prime Minister of France.
1956–Punk rocker, Johnny Rotten, of the Sex Pistols, is born John Joseph Lydon in Holloway, London, England. He was given the name Johnny Rotten in the mid-1970s, when his lack of oral hygiene led to his teeth turning green. In 2008, Lydon had extensive dental work performed in Los Angeles, California, at a reported cost of $22,000.
1956–Author, A.A. Milne, dies from a stroke and brain surgery in Hartfield, Sussex, England, at age 74. He is best known for his books about the teddy bear, Winnie-the-Pooh. The famous teddy's friends are Piglet, Eeyore, Kanga, Roo, and Tigger.
1957–Eight people (on the ground) in Pacoima, California, are killed following the mid-air collision between a Douglas DC-7 airliner and a Northrop F-89 Scorpion fighter jet.
1957–The construction of the Trans-Iranian oil pipeline is completed.
1957–Actress, Elizabeth Taylor, divorces her second husband, actor Michael Wilding.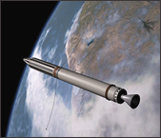 1958–The United States launches Explorer 1, its first artificial satellite.
1958–Space scientist, James Van Allen, discovers the Earth's "radiation belt."
1959–Actor, Anthony LaPaglia, is born in Adelaide, South Australia, Australia. He appeared in the films
Cold Steel, Slaves of New York, Betsy's Wedding, One Good Cop, 29th Street, The Client, Empire Records, Sweet and Lowdown,
and
Autumn in New York
.
1959–Actress, Kelly Lynch, is born in Golden Valley, Minnesota. She appeared in the films
Bright Lights Big City, Cocktail, Road House, Drugstore Cowboy, Curly Sue, White Man's Burden, Charlie's Angels,
and
The Jacket
.
1960–Songwriter, Adolph Green, marries actress-singer, Phyllis Newman, in New York.
1961–David Ben-Gurion resigns as Prime Minister of Israel.
1961–During the Mercury-Redstone 2 mission, Ham the Chimp travels into outer space.
1963–Tony Sheridan & the Beat Brothers record
What'd I Say
and
Ruby Baby
in Hamburg, Germany. The "Beat Brothers" were John Lennon, Paul McCartney, George Harrison, and Pete Best (of The Beatles).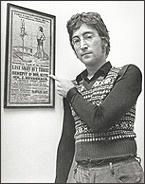 1964–The U.S. report "Smoking & Health" connects smoking to lung cancer.
1965–Pud Galvin is elected to the Baseball Hall of Fame.
1966–The USSR launches its spacecraft "Luna 9" towards the Moon.
1967–John Lennon, who is filming the promo clip for the song
Strawberry Fields Forever
, purchases an 1843 circus poster reading "For the Benefit of Mr. Kite," at a nearby antique shop in Kent, England.
1967–Drummer, Chad Channing, of Nirvana, is born in Santa Rosa, California.
1967–Drummer, Jason Cooper, of The Cure, is born in London, England.
1968–The Viet Cong attack the United States embassy in Saigon, along with other attacks, in the early morning hours. These are later grouped together as the Tet Offensive.
1968–The U.S. performs a nuclear test at Nevada Test Site.
1969–Indian Guru, Meher Baba, dies in Meherazad, India, at age 74. He gave practical advice for the aspirant who wished to attain Self-realization and thereby escape the wheel of birth and death. His teachings are recorded in his principal books
Discourses
and
God Speaks
.
1970–A chart topper:
I Want You Back
by The Jackson Five.
1970–Actress, Minnie Driver, is born Amelia Fiona Driver in London, England. She has appeared in the films
Circle of Friends, Big Night, Grosse Point Blank, Good Will Hunting, Beautiful,
and
Hope Springs
.
1970–Blues artist, Slim Harpo, dies of a heart attack in Baton Rouge, Louisiana, at age 46. His most influential recordings included
I'm a King Bee, Rainin' in My Heart,
and
Baby Scratch My Back
, which reached #1 on the R&B chart.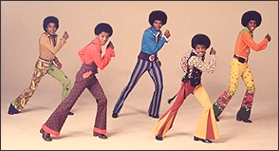 1971–The Winter Soldier Investigation, organized by the Vietnam Veterans Against the War to publicize war crimes and atrocities by Americans and allies in Vietnam, begins in Detroit, Michigan.
1971–Apollo 14 astronauts Alan Shepard, Stuart Roosa, and Edgar Mitchell, aboard a Saturn V, lift off for a mission to the Fra Mauro Highlands on the Moon.
1971–The Jackson Five are given the key to their hometown of Gary, Indiana, by Mayor Robert Pastrick.
1971–Dave Bancroft and George Weiss are elected to the Baseball Hall of Fame.
1972–The Queen of Soul, Aretha Franklin, sings at Mahalia Jackson's funeral which is held at Great Salem Baptist Church in Chicago, Illinois. Over 40,000 mourners attend the open-casket service, among them Coretta Scott King, Mayor Richard Daley, and Sammy Davis, Jr.
1972–John Lennon and Yoko Ono begin taping five programs as the week's co-hosts on the afternoon talk show
The Mike Douglas Show
. The shows are broadcast just two weeks later, between February 14th and 18th. Earlier that morning, at a press conference in New York to announce their appearances on the show, Yoko says: "We tried to show that we're working to change the world, not with dollars, but with love. We're not just freaks shouting and screaming about it, but we're thinking in terms of a balanced life, changing it gradually through our daily lifestyle. We're saying to older people, let's work it together, because we have to work it together."
1972–Bir Bikram Shah Deva Mahendra, King of Nepal (1955-1972), dies of a heart attack in Dialo Bangala, Bharatpur, Nepal, at age 51.
1974–McDonald's fast-food chain founder, Ray Kroc, buys The San Diego Padres.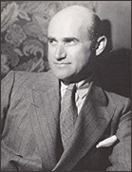 1974–Film magnate, Samuel Goldwyn, dies of natural causes in Los Angeles, California, at age 91. He ran Samuel Goldwyn Studios, and then went on to merge his power with Louis B. Mayer to create Metro-Goldwyn-Mayer (MGM) one of the most successful movie studios of all time. MGM Studios claimed to have "as many stars as there are in the sky."
1975–John Lennon pays a visit to his wife, Yoko Ono, at the Dakota. To friends, he gives the reason for the visit as, "Yoko has a cure for my smoking." John moved back into the Dakota over the coming weekend.
1976–Criminal, Ernesto Miranda, dies from being stabbed in a knife fight in a bar in Phoenix, Arizona, at age 34. He was a laborer whose conviction on kidnapping, rape, and armed robbery charges based on his confession under police interrogation, was set aside in the landmark U.S. Supreme Court case (Miranda v. Arizona, November 1965). It ruled that criminal suspects must be informed of their right against self-incrimination and their right to consult with an attorney before being questioned by police. This warning is commonly known as Miranda rights.
1977–Joe Sewell, Amos Rusie, and Al Lopez are elected to the Baseball Hall of Fame.
1978–Israel converts three military outposts in the West Bank into civilian settlements.
1978–
Elvis: The Legend Lives!
opens at the Palace Theater in New York for 101 performances.
1978–Brad Rutter, highest winning champion in
Jeopardy!
history, is born Bradford Gates Rutter in Lancaster, Pennsylvania. His winnings were $4,455,102. Rutter is a 1995 graduate of Manheim Township High School in Neffsville, Pennsylvania, where he was on the Quiz Bowl team. He is one of the 19 people to have been named to the National Academic Championship Hall of Fame.
1980–Record high sugar prices lead to Coca-Cola substituting high fructose corn syrup for half of the sucrose (sugar) used in the soft drink.
1981–A chart topper:
The Tide is High
by Blondie.
1981–The 38th Annual Golden Globe Awards announces its winners. Best Picture:
Ordinary People;
Best Actor: Robert De Niro for
Raging Bull;
Best Actress: Mary Tyler Moore for
Ordinary People;
Best Director: Robert Redford for
Ordinary People;
Best Musical:
Coal Miner's Daughter;
Best foreign Film:
Tess
(United Kingdom).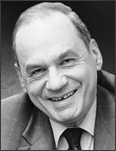 1981–Singer-songwriter, Justin Timberlake, is born in Memphis, Tennessee. Timberlake has released four studio albums, two compilation albums, three extended plays, and 39 singles. Timberlake initially achieved success as a member of the boy band 'n Sync. Following the group's hiatus, he released his debut studio album as a solo artist,
Justified
, in November 2002.
1982–A massive winter storm hits Missouri, Illinois, and Indiana, leaving 4,000 motorists stranded for two days.
1984–The U.S. performs a nuclear test at Nevada Test Site.
1984–Newsman, Edwin Newman, retires from NBC News after 35 years with the network.
1987–The bargain-price airline, People Express, makes its last flights before becoming part of Continental Airlines.
1987–The 44th Annual Golden Globe Awards announces its winners. Best Picture:
Platoon;
Best Actor: Bob Hoskins for
Mona Lisa;
Best Actress: Marlee Matlin for
Children of a Lesser God;
Best Director: Oliver Stone for
Platoon;
Best Comedy:
Hannah and Her Sisters;
Best foreign Film:
The Assault
.
1988–A barge sinks near Anacortes, Washington, spilling 70,000 gallons of oil.
1988–The nostalgic 1970s sitcom,
The Wonder Years
, debuts on NBC-TV.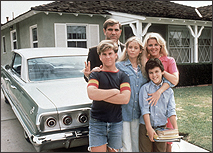 1988–Super Bowl XXII: The Washington Redskins beat the Denver Broncos, 42-10.
1989–Sixty-four cities in the central U.S. report record highs, as temperatures reach the 60s in Michigan and the 80s in Kansas.
1990–The first McDonald's in the Soviet Union opens in Moscow, Russia.
1992–Sportscaster, Howard Cosell, retires.
1993–Super Bowl XXVII: The Dallas Cowboys beat the Buffalo Bills, 52-17.
1995–President Bill Clinton authorizes a $20 billion loan to Mexico to help stabilize its economy.
1995–George Abbott, playwright-actor-producer, dies of a stroke in Miami Beach, Florida, at age 107. He had a huge Broadway hit with the stage show,
Damn Yankees
.
1996–An explosives-filled truck rams into the gates of the Central Bank of Sri Lanka in Colombo, Sri Lanka, killing at least 86 people and injuring 1,400 others.
1996–Comet Hyakutake is discovered by Japanese amateur astronomer, Yuji Hyakutake.
2000–An Alaska Airlines jet plunges into the ocean off Southern California on a flight from Mexico to San Francisco, killing all 88 people on board.
2001–In the Netherlands, a Scottish court convicts a Libyan and acquits another, for their part in the bombing of Pan Am Flight 103, which crashed into Lockerbie, Scotland in 1988.
2001–Germany announces plans to destroy 400,000 cattle due to "Mad Cow" disease. The European Union estimates that up to two million cattle could ultimately be lost due to the crisis.
2002–Actress, Evelyn Scott, dies in Los Angeles, California, at age 86. She is best known for the role of Ada Jacks on the popular primetime soap opera
Peyton Place
. Scott started out as a disc jockey in Los Angeles, California, the first woman in that role, spinning records for KMPC's early morning "Wake-Up" show, and then became a singing DJ on KHJ's similar "Rise and Shine" morning program. She appeared in the films
Wicked Woman, Back from the Dead, The Green-Eyed Blonde, I Want to Live!,
and
Peyton Place: The Next Generation
.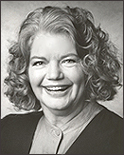 2003–The Waterfall rail accident occurs near Waterfall, New South Wales, Australia.
2006–Samuel Alito is confirmed by the U.S. Senate and sworn in as a U.S. Supreme Court Justice.
2006–The U.S. Senate approves Ben Bernanke as Chairman of the Federal Reserve.
2007–Suspects are arrested in Birmingham, England, accused of plotting the kidnap, holding, and eventual beheading of a serving Muslim British soldier in Iraq.
2007–Molly Ivins, political columnist and author, dies of breast cancer in Austin, Texas, at age 63.
2009–At least 113 people are killed and over 200 others are injured following an oil spillage ignition in Molo, Kenya.
2009–Singer-songwriter, Lisa Loeb, marries
Late Night with Conan O'Brien
music supervisor, Roey Hershkovitz, in New York.
2009–Dewey Martin, drummer with The Dillards and Buffalo Springfield, dies of natural causes in his apartment in Van Nuys, California, at age 68.
2010–Avatar becomes the first film to gross over $2 billion worldwide.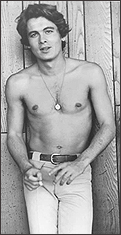 2010–The 52nd Annual Grammy Awards announces its winners. Record of the Year: Kings of Leon for
Use Somebody;
Album of the Year: Taylor Swift for
Fearless;
Song of the Year: Beyoncé for
Single Ladies (Put a Ring on It)
; Best Vocal Performance, Male: Jason Mraz for
Make it Mine;
Best Vocal Performance, Female: Beyoncé for
Halo;
Best Performance by a Vocal Group: The Black Eyed Peas for
I Gotta Feeling;
Best Country Performance: Taylor Swift for
White Horse;
Best Rhythm & Blues Performance: Beyoncé for
At Last;
Best Rock Performance: Bruce Springsteen for
Working on a Dream;
Best Rap Performance: Jay-Z for
D.O.A. (Death of Auto-Tune);
Best Instrumental Performance: Béla Fleck for
Throw Down Your Heart;
Best New Artist: Zac Brown Band. The ceremonies are held at Staples Center, Los Angeles, California. There is no host. Only ten of the 109 awards were received during the broadcast. The remaining awards were given during the un-televised portion of the ceremony which preceded the broadcast.
2011–A winter storm hits North America for the second time in the same month, killing 24 people and causing $1.8 billion in damage across the United States and Canada.
2011–Super-centenarian, dies in Cherokee County, Texas, at age 114 years (and 195 days).
2013–An explosion at the Pemex Executive Tower in Mexico City, Mexico, kills at least 33 people and injures over 100 others.
2013–Married political analysts, James Carville and Mary Matalin, part ways with CNN to focus on other projects.
2014–Actor, Christopher Jones, dies of cancer in Los Alamitos, California, at age 72. His most memorable role is that of the cult leader, Max Frost, in the film
Wild in the Streets
. He appeared in the films
Three in the Attic, The Looking Glass War, Ryan's Daughter,
and
Mad Dog Time
. He abruptly left show business in 1969, and in his later years he had a career as an artist and sculptor.

2015–Actress, Lizabeth Scott, dies of heart failure in Los Angeles, California, at age 92. She appeared in the films
The Strange Loves of Martha Ivers, Dead Reckoning, Desert Fury, I Walk Alone, Easy Living, Dark City, The Company She Keeps, Two of a Kind, The Racket, Stolen Face, Bad for Each Other, Loving You,
and
Pulp
.
2016–Chef, Benoit Violier, dies of a self-inficted sunshot wound in Crissier, France, at age 44. Last year, his restaurant, the Restaurant de l'Hotel de Ville in Crissier, was ranked first on a French government-sponsored list of the world's top 1,000 restaurants.
2017–Morocco rejoins the African Union after a 33-year absence, despite opposition from several member states over the political status of Western Sahara.
2017–The United Kingdom posthumously pardons around 49,000 gay and bisexual men found guilty of decades-old sodomy laws in England and Wales.
2017–Austria agrees to ban the full-face veil (burqa and niqab) in public spaces, part of a larger deal struck by the center-left Social Democratic Party and the center-right Austrian People's Party, to avoid the collapse of the ruling coalition government.
2017–Three new breeds, the hairless terrier, pumi, and sloughi dog, will make their debut in the Westminster Kennel Club Dog Show in New York.
2017–A-list musicians, including Kanye West, Justin Bieber, and Drake are all planning on boycotting the upcoming Grammy ceremony (February 12th), saying the awards are now out of touch and irrelevant.
2017–Actor, Frank Pellegrino, dies of lung cancer in Manhattan, New York, at age 72. His is best known for his roles on the TV shows
Law & Order
and
The Sopranos
. He appeared in the films
Goodfellas, Manhattan Murder Mystery, Mr. Wonderful, It Could Happen to You,
and
Celebrity
.
2017–John Whetton, of the progressive rock groups King Crimson and Asia, dies in his sleep from colon cancer at a hospice in Bournemouth, Dorset, England, at age 67.
PHOTOS TOP TO BOTTOM: Pope Silvester I; Guy Fawkes; Franz Peter Schubert; the first black Civil War regiment, the South Carolina Volunteers; Zane Grey; Eddie Cantor on the cover of
Popular Songs;
Thomas Merton; Mario Lanza; Scotch Tape ad; James Franciscus; Jessica Walter; Terry Kath; Edwin H. Armstrong; Johnny Rotten; Explorer 1; John Lennon with his "Mr. Kite" poster; The Jackson Five; Samuel Goldwyn; Edwin Newman; the cast of
The Wonder Years;
Molly Ivins; Christopher Jones; and Lizabeth Scott.