BC 27–Gaius Julius Caesar Octavianus is granted the title Augustus by the Roman Senate, marking the beginning of the Roman Empire.
550–After a long siege, the Ostrogoths, under King Totila, conquer Rome by bribing the Isaurian garrison.
929–Emir Abd-ar-Rahman III establishes the Caliphate of Córdoba.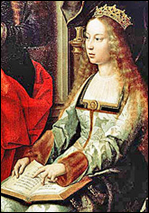 970–Polyeuctus of Constantinople dies.
1120–The Council of Nablus is held, establishing the earliest surviving written laws of the Crusader Kingdom of Jerusalem.
1362–A storm tide in the North Sea destroys the German city of Rungholt, on the island of Strand.
1387–Elizabeth of Bosnia dies at Novigrad Castle, Novigrad, Kingdom of Croatia, at age 18. She was strangled by guards while imprisoned there.
1409–René of Anjou, King of Naples, is born at the Castle of Angers in Angers, France.
1412–The Medici family is appointed official banker of the Papacy.
1492–Queen Isabella I is presented with the first grammar of the Spanish language.
1493–Columbus leaves the "New World" and sets sail for Spain.
1516–King Bayinnaung of Burma is born Burengnong Kayodin Noratha in Taungoo, in the Bago Region of Myanmar. During his 31-year reign, Bayinnaung assembled the largest empire in the history of Southeast Asia, which included much of present-day Burma, the Chinese Shan states, Lan Na, Lan Xang, Manipur, and Siam.
1547–Ivan IV (Ivan the Terrible) crowns himself the first Tsar of Russia.
1556–Philip II becomes the King of Spain.
1572–Thomas Howard, 4th Duke of Norfolk, is tried for treason for his part in the Ridolfi plot to restore Catholicism in England.
1581–Roman Catholicism is outlawed by the English Parliament.
1595–Ottoman sultan, Murad III, dies at the Topkapi Palace of Constantinople at age 49. He was buried in a tomb that would later include 54 of his wives and children.
1605–The first edition of
El ingenioso hidalgo Don Quijote de la Mancha
(Book One of Don Quixote) by Miguel de Cervantes is published in Madrid, Spain.
1707–The Scottish Parliament ratifies the Act of Union, paving the way for the creation of Great Britain.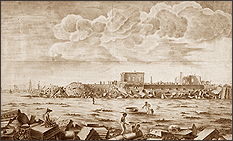 1710–Emperor Higashiyama of Japan dies in Japan, at age 34. His reign spanned the years from 1687 through 1709, which is generally considered to be the Golden Age of the Edo Period.
1761–The British capture Pondicherry, India, from the French.
1786–Virginia enacts the Statute for Religious Freedom, authored by Thomas Jefferson.
1794–Historian, Edward Gibbon, dies of peritonitis in London, England, at age 56. He is the author of the six-volume
The Decline and Fall of the Roman Empire
. He said: "History is indeed little more than the register of the crimes, follies, and misfortunes of mankind."
1809–In the Peninsular War, the British defeat the French at the Battle of La Coruña.
1836–Francis II of the Two Sicilies is born Francesco d'Assisi Maria Leopoldo in Naples, Kingdom of the Two Sicilies. He was the last King of the Two Sicilies, as successive invasions by Giuseppe Garibaldi and Victor Emmanuel II of Sardinia, ultimately brought an end to his rule, and marked the first major event of Italian unification. After he was deposed, the Kingdom of the Two Sicilies and the Kingdom of Sardinia were merged into the newly formed Kingdom of Italy.
1847–John C. Fremont is appointed Governor of the new California Territory.
1853–Industrialist and tire manufacturer, Andre (Jules) Michelin, is born in Paris, France. He co-founded the Michelin Tire Company. In 1900, Michelin published the first Michelin Guide, to promote tourism by car, thereby supporting his tire manufacturing operation.
1862–Two hundred and four men and boys are killed in the Hartley Colliery mining disaster, prompting a change in U.K. law which henceforth required all collieries to have at least two independent means of escape.
1866–Phineas Quimby, mystic and philosopher, dies in Belfast, Maine, at age 63. He was a magnetizer, mesmerist, healer, and inventor, whose work is widely recognized as leading to the New Thought movement. He was also a watch and clockmaker by trade and held several patents for mechanical devices.
1878–Actor, Harry Carey, is born Henry DeWitt Carey II in the Bronx, New York. He was one of the first superstars of the silent film era. He also appeared in the "talkies"
Mr. Smith Goes to Washington, Angel and the Badman,
and
Red River
. In 1976, he was inducted into the Western Performers Hall of Fame at the National Cowboy & Western Heritage Museum in Oklahoma City, Oklahoma. He is the father of actor, Harry Carey, Jr.
1883–The Pendleton Civil Service Reform Act is passed, establishing the United States Civil Service.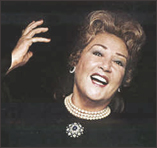 1900–The U.S. Senate accepts the Anglo-German treaty of 1899, in which the United Kingdom renounces its claims to the Samoan islands.
1900–Edith Frank, mother of Anne Frank, is born Edith Holländer in Aachen, Prussia, German Empire.
1901–Fulgencio Batista, President and dictator of Cuba (1933-1944 and 1952-1959), is born Fulgencio Batista y Zaldívar in Banes, Cuba.
1906–Businessman, Marshall Field, dies of pneumonia, in New York, New York, at age 71. He founded Marshall Field and Company, the Chicago-based department stores. The sayings "Give the lady what she wants" and "The customer is always right," are attributed to Field and his excellent retailing practices.
1908–Singer-actress, Ethel Merman, is born Ethel Agnes Zimmermann in Astoria, Queens, New York. She is known for her belting voice and many roles in musical theatre and film. On the stage, she starred in
Annie Get Your Gun, Gypsy,
and
Hello, Dolly!
She appeared in the films
Anything Goes, Alexander's Ragtime Band, Stage Door Canteen, Call Me Madame,
and
There's No Business Like Show Business.
1909–Ernest Shackleton's expedition finds the magnetic South Pole.
1910–Baseball player, Dizzy Dean, is born Jay Hanna Dean in Lucas, Arkansas. He played in Major League Baseball as a pitcher for the St. Louis Cardinals, the Chicago Cubs, and the St. Louis Browns. Upon retiring from baseball, Dean became a sportscaster. He was elected to the Baseball Hall of Fame in 1953.
1915–Rose Totino is born Rosenella Winifred Cruciani in Minnesota. She was co-founder with her husband, Jim Totino, of Totino's Pizzeria and Totino's Finer Foods. They sold the company to Pillsbury in 1975, for about $22 million in Pillsbury stock.
1917–Carl Karcher, founder the Carl's Jr. hamburger chain, is born in Upper Sandusky, Ohio. Karcher and his wife started their first business (a hot dog stand) on July 17, 1941, in Los Angeles, California, when they borrowed $311 against their Plymouth automobile and added $15 from Margaret's purse. The stand initially sold hot dogs and Mexican tamales. On his 28th birthday, January 16, 1945, they opened their first restaurant, Carl's Drive-In Barbecue, in Anaheim, California.
1918–Screenwriter, Stirling (Dale) Silliphant, is born in Detroit, Michigan. He wrote for many of the classic drama shows of the 1950s and 1960s, including the hit anthology series
Route 66
(74 episodes). Silliphant was a film and television writer with more than 700 hours of prime-time television drama to his credit, many of which earned Emmys for their producers, directors, and cast members. He started out writing for Disney's
The Mickey Mouse Club
, but soon moved on to
Playhouse 90, Perry Mason, Naked City,
and
Alfred Hitchcock Presents
. His film credits include
5 Against the House, Village of the Damned, The Slender Thread, In the Heat of the Night, Charly, Marlowe, The Poseidon Adventure, The Towering Inferno, When Time Ran Out...,
and
Over the Top
.
1919–The United States ratifies the Eighteenth Amendment to the U.S. Constitution, authorizing Prohibition after a delay of one year.
1920–The League of Nations holds its first council meeting in Paris, France.
1920–Zeta Phi Beta Sorority Incorporated is founded on the campus of Howard University.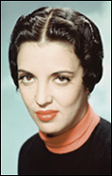 1921–The Marxist Left in Slovakia and the Transcarpathian Ukraine holds its founding congress in Lubochna.
1921–Photographer, Francesco Scavullo, is born in Staten Island, New York. He started out working for the magazines
Vogue
and
Seventeen
. His work also appeared in
Cosmopolitan, Harper's Bazaar,
and
Rolling Stone
. He is best known for his provocative images of models, rock stars, actors and actresses, and others among the beautiful, rich, and famous.
1924–Eleftherios Venizelos becomes Prime Minister of Greece for the fourth time.
1924–Character actress, Katy Jurado, is born María Cristina Estela Marcela Jurado García in Mexico. After success in Mexico in the 1940s, she came to Hollywood, and became a regular player in Western films of the 1950s and 1960s. She had affairs with John Wayne, Tyronne Power, and Marlon Brando, and married actor, Ernest Borgnine, but the true love of her life was Western writer, Louis L'Amour. She appeared in the films
Arrowhead, Broken Lance, Trapeze, One-Eyed Jacks, Stay Away, Joe,
and
Under the Volcano
.
1932–Zoologist, Dian Fossey, is born in San Francisco, California. She was a primatologist and anthropologist who undertook an extensive study of mountain gorilla groups over a period of 18 years in the mountain forests of Rwanda. Part of her life story is told in the film
Gorillas in the Mist
.
1933–Author, Susan Sontag, is born Susan Rosenblatt in New York, New York. Her best known works include
On Photography, Against Interpretation, Styles of Radical Will, The Way We Live Now, Illness as Metaphor, Regarding the Pain of Others, The Volcano Lover,
and
In
America
.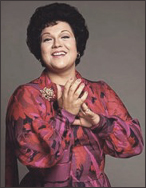 1934–Bob Bogle, of The Ventures, is born Robert Lenard Bogle in Wagoner, Oklahoma. Bogle was the lead guitarist and later the bassist of the group.
1934–Opera singer, Marilyn Horne, is born in Bradford, Pennsylvania. She specialized in roles requiring a large sound, beauty of tone, excellent breath support, and the ability to execute difficult coloratura passages. She is a recipient of the National Medal of Arts (1992) and the Kennedy Center Honors (1995). She has also won four Grammy Awards.
1935–Criminal and gang leader, Ma Barker, dies from a gunshot by Federal law enforcement, in Ocklawaha, Florida, at age 61. Barker's story was adapted for the low-budget film,
Bloody Mama
, in 1970, starring Shelley Winters.
1936–The Screen Actors Guild is incorporated and King Vidor becomes its first President.
1938–The Benny Goodman Orchestra performs the first jazz concert at Carnegie Hall, in New York.
1939–The Irish Republican Army (IRA) begins a bombing and sabotage campaign in England.
1942–Music manager, Rene Angelil, is born in Montreal, Quebec, Canada. He was the husband and longtime manager of singer, Celine Dion.
1942–Actress, Carole Lombard, dies in a plane crash near Mount Potosi, Nevada, at age 33. She had been traveling extensively to raise money for World War II war bonds. She appeared in the films
The Arizona Kid, Twentieth Century, Hands Across the Table, My Man Godfrey, Nothing Sacred, Made for Each Other, Mr. & Mrs. Smith,
and
To Be or Not to Be
.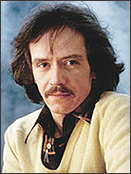 1944–Country singer, Ronnie Milsap, is born in Robbinsville, North Carolina. He was one of country music's most popular and influential performers of the 1970s and 1980s, becoming country music's first successful blind singer. His hits include
(There's) No Gettin' Over Me, Any Day Now,
and
Lost in the Fifties Tonight (In the Still of the Night)
.
1944–Singer, Jim Stafford, is born James Wayne Stafford in Eloise, Florida. His hits were
Spiders & Snakes, My Girl Bill, Wildwood Weed,
and
Turn Loose of My Leg
. Stafford has operated and performed at the Jim Stafford Theatre in Branson, Missouri, since 1990. He was married to singer, Bobby Gentry.
1945–Adolf Hitler moves into his underground bunker.
1948–Film director, John Carpenter, is born in Carthage, New York. He is most commonly associated with horror and science fiction films from the 1970s and 1980s. His films include
Eyes of Laura Mars, Halloween, Christine, The Fog, Escape from New York, The Thing, Starman,
and
Village of the Damned
.
1948–American food writer, editor, and television producer, Ruth Reichl, is born in New York, New York. Reichl began her career as chef and co-owner of Swallow Restaurant in Berkeley, writing a cookbook,
Mmmmm: A Feastiary
, in 1972. She moved on to
The Los Angeles Times
in 1973, ultimately moving back to her hometown to become the restaurant critic for
The New York Times
. In 1999, she became the editor of
Gourmet
magazine.
1950–Dancer-actress, Debbie Allen, is born Deborrah Kaye Allen in Houston, Texas. She is best known for her work on the musical-drama TV series
Fame
. She appeared in the films
Jo Jo Dancer, Your Life is Calling, The Fish That Saved Pittsburgh, Fame,
and
Ragtime
. She is the younger sister of actress, Phylicia Rashad.
1951–The world's largest gas pipeline becomes operational. It runs from Brownsville, Texas, to New York.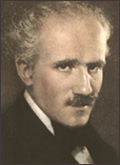 1952–Fuad II of Egypt is born Ahmad Fuad bin Farouk bin Fuad bin Isma'il bin Ibrahim bin Muhammad Ali at Abdeen Palace, Cairo, Egypt. He ascended the throne on July 26, 1952, upon the abdication of his father, King Farouk I, following the Egyptian Revolution of 1952. Farouk had hoped that his abdication would appease the revolutionaries and other anti-royalist forces, and that his son could serve as a unifying force for the country. The infant king reigned for less than a year (until June 18, 1953), when Egypt was declared a republic. Fuad II was the 11th and last monarch of the Muhammad Ali Dynasty, which had ruled Egypt (and later Sudan) since 1805.
1957–The Cavern Club opens in a former wine cellar on Mathew Street in Liverpool, England. The club will earn its landmark status in 1961 and 1962 when The Beatles are its house band.
1957–Italian orchestra conductor, Arturo Toscanini, dies in New York, New York, at age 89. He was at various times the music director of La Scala Milan, the Metropolitan Opera in New York, and the New York Philharmonic Orchestra.
1959–Singer, Sade Adu, is born Helen Folasade Adu in Ibadan, Oyo State, Nigeria. She had a big hit in the 1980s with
Smooth Operator
.
1963–Soviet Premier, Nikita Khrushchev, claims to have a 100-megaton nuclear bomb.
1964–The musical,
Hello, Dolly!
, starring Carol Channing, opens on Broadway.
1964–The Beatles perform two shows at the Olympia Theatre, Boulevard des Capucines, Paris, France. This is the first of an 18-night engagement, spanning from January 16th through February 4th. They perform two, or even three, shows each night. Exactly who the headline act was supposed to be was never particularly clear, but The Beatles did close every show, which included French singer, Sylvie Vartan, American singer, Trini Lopez, and six other acts. This first night was a disaster: The Beatles' amplification equipment broke down three times during their performance and the first show, which was attended mostly by Paris' top society members (all dressed in formal evening attire), went over like a lead balloon. Throughout the extended run, playing in front of predominantly male audiences (completely opposite of what they are used to in Britain) The Beatles struggle to match their advance publicity and to cope with the British (and French) press who are quick to capitalize on their "failure." The French press had little good to say about The Beatles in the next day's papers, but The Beatles didn't really care, because they'd just received news that their single
I Want To Hold Your Hand
had hit #1 in America. It is estimated that in mid-January,
I Want To Hold Your Hand
was selling 10,000 copies an hour in New York alone.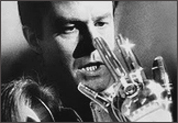 1965–The USSR performs a nuclear test.
1965–The sci-fi series,
The Outer Limits
, airs its final episode on ABC-TV.
1965–A chart topper:
Come See About Me
by The Supremes.
1966–The Metropolitan Opera House opens at Lincoln Center in New York.
1968–Singer, Eartha Kitt, shocks the world by directly confronting President and Lady Bird Johnson at a Women Doers luncheon at the White House, making a vigorous protest against the fact that so many urban blacks were being sent to Vietnam.
1969–Soviet spacecraft Soyuz 4 and Soyuz 5 perform the first docking of manned spacecraft in orbit, and the first transfer of crew from one space vehicle to another.
1969–Czech student, Jan Palach, commits suicide as self-immolation in Prague, Czechoslovakia, in protest against the Soviets' crushing of the Prague Spring the year before.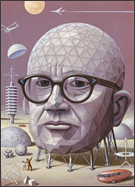 1970–Buckminster Fuller receives the Gold Medal Award from the American Institute of Architects. Fuller was the inventor of the geodesic dome, an attempt at modern house design.
1970–Detectives from Scotland Yard converge upon the London Arts Gallery, raiding the John Lennon "Bag One" lithograph exhibit. They confiscate eight of the lithographs, those which have been deemed to be erotic and indecent. The warrant was issued under the Obscene Publications Act.
1972–Super Bowl VI: The Dallas Cowboys beat the Miami Dolphins, 24-3.
1972–Novelty maestro, David Seville, dies of a heart attack in Beverly Hills, California, at age 52. He created The Chipmunks, who sang hits of the day in speeded-up voices (
Ragtime Cowboy Joe
and
The Christmas Song
). As David Seville, he enjoyed a #1 hit in 1958 with
Witch Doctor
.
1974–New York Yankees, Mickey Mantle and Whitey Ford, are elected to the Baseball Hall of Fame.
1974–Fashion model, Kate Moss, is born in Addiscomb, Surrey, England. She ushered in a new era of skin-and-bones models, which hadn't been the trend since Twiggy came on the fashion scene in the 1960s.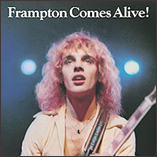 1976–Peter Frampton's double-length classic LP
Frampton Comes Alive!
is released.
Rolling Stone
proclaims the disc to be "a synthesis of the best third-generation British rock styles."
1979–The last Iranian Shah flees Iran with his family, relocating to Egypt.
1979–Actor, Ted Cassidy, dies from complications following open-heart surgery in Los Angeles, California, at age 46. He is best known for the role of Lurch in the TV series
The Addams Family
.
1980–Paul McCartney and Wings arrive in Tokyo, Japan, for a tour. After marijuana is found in his luggage and in the hood of one of the McCartney children's coats, Paul is arrested for possession and the tour is cancelled. Known as prisoner No. 22, McCartney spends the night in the local jail, while Linda, the kids, and Wings take up residence at the Okura Hotel. Paul will be kept in jail for 10 days. The music of Wings is banned from all radio and TV stations in the country. Later that evening in her Tokyo hotel room, Linda McCartney remarks: "It's really very silly. People certainly are different over here. They take it so very seriously. I'll never come back to Japan again. It's my first trip and my last!"
1985–On the 15th anniversary of their seizure, eight explicit lithographs by John Lennon, which were confiscated by police from the London Arts Gallery in 1970, are put on display in Liverpool's Beatle City Museum. The drawings, part of a collection of 14 called "Bag One," show John and Yoko on their honeymoon in 1969, engaging in various acts of lovemaking.
1985–David Bowie's schizophrenic half-brother, Terry Burnes, commits suicide (at age 47) by laying down on the railway lines at Coulsdon South Station, in London, England. He was killed instantly by a passing train.
1985–Actress, Renée Felice Smith, is born in New York. She is best known for the role of Nell Jones on the TV series
NCIS: Los Angeles
.
1986–The first meeting is held of the Internet Engineering Task Force.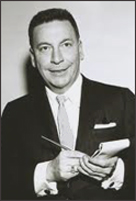 1987–A winter storm drops a total of 61 inches of snow at Rye, Colorado, and brings wind gusts of up to 100 mph in Utah.
1987–Newspaper columnist, Earl Wilson, dies in Yonkers, New York, at age 79. He was an American journalist, gossip columnist, and author, perhaps best known for his nationally syndicated newspaper column, "It Happened Last Night."
1989–Novelist, Pierre Boileau, dies in Beaulieu-sur-Mer, Alpes-Maritimes, France, at age 82. He wrote
Vertigo, Diabolique,
and
The Victims
.
1989–Actor, Trey Wilson, dies from a cerebral hemorrhage in New York, New York, at age 40. He had been cast in the Coen brothers' film,
Miller's Crossing
, at the time of his death and was replaced by Albert Finney. Wilson's last film was
Great Balls of Fire!,
the biopic of Jerry Lee Lewis, where he played legendary American record producer Sam Phillips.
1990–Heavy snow falls across the Prince Williams Sound area and the Susitna Valley of southern Alaska. Valdez is buried under 64.9 inches of snow in less than two days. The heavy snow blocks roads, closes schools, and sinks at least six vessels in the harbor.
1991–The United States and 27 allies attack Iraq for its occupation of Kuwait.
1991–The 6th Annual Rock and Roll Hall of Fame Induction Ceremony is held. This year's inductees are: (Performers) Ike and Tina Turner, Jimmy Reed, John Lee Hooker, LaVern Baker, The Byrds, The Impressions, and Wilson Pickett; (Non-Performers) Dave Bartholomew and Ralph Bass; and (Early Influence) Howlin' Wolf. The Lifetime Achievement went to Nesuhi Ertegun. The ceremony takes place at The Waldorf Astoria Hotel in New York City.
1992–El Salvador officials and rebel leaders sign the Chapultepec Peace Accords in Mexico City, Mexico, ending the 12-year Salvadoran Civil War that claimed at least 75,000 lives.
1992–In Hollywood, Mick Jagger attends the premiere of his new movie
Freejack
. Leonard Maltin describes the sci-fi thriller as "tiresome, superficial fare."
1992–Buddhist meditation master, Ajahn Chah, dies of diabetes in Ubon, Thailand, at age 73. Beginning in 1979, with the founding of Cittaviveka (commonly known as Chithurst Buddhist Monastery) in the United Kingdom, the Thai Forest Tradition of Ajahn Chah has spread throughout Europe, the United States, and the British Commonwealth.
1993–Actor, Glenn Corbett, dies of lung cancer at the Veterans Affairs (VA) hospital in San Antonio, Texas, at age 59. Corbett was cast in the final two seasons of the TV series,
Route 66
, replacing George Maharis. He appeared in the films
Operation Petticoat, The Crimson Kimono, All the Young Men, Homicidal, Shenandoah, Chisum, Big Jake,
and
Midway
.
1996–Keyboardist, Richard Kermode, who performed with Janis Joplin in her Kozmic Blues Band, dies in Denver, Colorado, at age 49.
1997–Ennis Cosby, 29-year-old son of Bill Cosby, is murdered on a highway in Los Angeles, California.
1999–Legendary Los Angeles nightclub, the Whisky A Go-Go, begins a week-long slate of concerts to mark its 35th anniversary. The concerts feature acts who have previously played the venue. Included in the festivities are The Grass Roots, The Robby Krieger Band, Johnny Rivers, Nancy Sinatra, Randy Bachman, Jan & Dean, and Martha Reeves.
2000–It is reported that Mick Jagger had lost the chance of a knighthood because of his bad-boy ways. British Prime Minister, Tony Blair, had doubts about the message it would give about family values.
2001–President Bill Clinton awards former President Theodore Roosevelt a posthumous Medal of Honor for his service in the Spanish-American War.
2001–Congolese President, Laurent-Désiré Kabila, is assassinated by one of his own bodyguards.
2002–The UN Security Council unanimously establishes an arms embargo and the freezing of assets of Osama bin Laden, al-Qaeda, and the remaining members of the Taliban.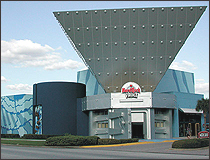 2002–A section of California's Interstate 80 freeway is renamed the "Sonny Bono Memorial Freeway."
2003–The Space Shuttle Columbia takes off for the mission that would be its Last. Sixteen days later, Columbia disintegrated on re-entry.
2003–The Hard Rock Vault opens in Orlando, Florida. The 17,000-square-foot music memorabilia museum, owned by Hard Rock Cafe International, is located in the same building that had previously housed the short-lived Guinness World Records Experience. The museum's Total Immersion Tour is a guided stroll through the various galleries including: The Back Alley (dedicated to punk rock), The Psychedelic Meltdown (from The Grateful Dead to Pink Floyd), The Dressing Room (rock 'n roll fashions), The Light and The Dark (The Beatles vs. The Rolling Stones), and the King's Chamber (all about Elvis). The attraction also featured a listening room, poster and art display, a recreation of the original Memphis Sun Studios, and a Hard Rock gift shop. The attraction closed in September 2004, and the artifacts were distributed back to the Hard Rock chain's various restaurant collections.
2004–Michael Jackson appears in court and pleads not guilty to seven charges of child molestation.
2004–Starbucks opens their first location in France.
2005–At age 66, Adriana Iliescu gives birth to her daughter Eliza, breaking the world record for the oldest birth mother.
2005–The cooking competition show,
Iron Chef America,
debuts on the Food Network. It is a spinoff of Japan's
Iron Chef
.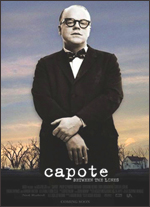 2005–The 62nd Annual Golden Globe Awards announces its winners. Best Picture:
The Aviator;
Best Actor: Leonardo DiCaprio for
The Aviator;
Best Actress: Hilary Swank for
Million Dollar Baby;
Best Director: Clint Eastwood for
Million Dollar Baby;
Best Comedy:
Sideways;
Best Foreign Film:
The Sea Inside
.
2006–Ellen Johnson Sirleaf is sworn in as Liberia's new president, becoming Africa's first elected female head of state.
2006–The 63rd Annual Golden Globe Awards announces its winners. Best Picture:
Brokeback Mountain;
Best Actor: Philip Seymour Hoffman for
Capote;
Best Actress: Felicity Huffman for
Transamerica;
Best Director: Ang Lee for
Brokeback Mountain;
Best Non-Drama:
Walk the Line;
Best Foreign Film:
Paradise Now
.
2009–Boy George, of Culture Club, is sentenced to 15 months in prison after being convicted of falsely imprisoning a male escort. He admitted handcuffing Audun Carlsen to a wall back in April 2007, but said he did so in order to locate photos that had been stolen from his laptop computer.
2009–Artist, Andrew Wyeth, dies after a brief illness in Chadds Ford, Pennsylvania, at age 91. Wyeth was known for his Realist paintings of the landscapes and people of his hometown and summer home. One of his best-known works, "Christina's World," is part of the collection of the Museum of Modern Art in New York.
2010–Entrepreneur, Glen Bell, dies of a heart attack in Rancho Santa Fe, California, at age 86. He founded the fast-food chain Taco Bell.
2010–Country singer, Carl Smith, dies of natural causes in Franklin, Tennessee, at age 82. He was one of Country's most successful male artists during the 1950s, with 30 Top 10 Billboard hits. He was married to country singer, June Carter.
2011–The 67th Annual Golden Globe Awards announces its winners. Best Picture:
The Social Network;
Best Actor: Colin Firth for
The King's Speech;
Best Actress: Natalie Portman for
Black Swan;
Best Director: David Fincher for
The Social Network;
Best Non-Drama:
The Kids Are All Right;
Best Foreign Film:
In a Better World
.
2013–An estimated 41 international workers are taken hostage in an attack in the town of In Aménas, Algeria.
2013–Toy maker, André Cassagnes, dies near Paris, France, at age 86. He was the inventor of the Etch A Sketch, a popular mechanical drawing toy in the 1960s, manufactured by the Ohio Art Company.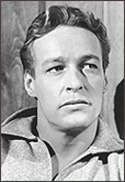 2014–Actor, Russell Johnson, dies of kidney failure in Bainbridge Island, Washington, at age 89. He is best known for the role of the "Professor" on the TV sitcom
Gilligan's Island
.
2014–Actor, Dave Madden, dies of congestive heart and kidney failure at age 82. He was best known for the role of band manager, Reuben Kinkade, on the TV sitcom
The Partridge Family
.
2016–The location of the Salem Witch Trials, a series of hearings, prosecutions, and hangings of residents accused of witchcraft, is confirmed after nearly 300 years of conflicting beliefs. A small plot of undeveloped public land, known as Proctor's Ledge in Salem, Massachusetts, is the site where 19 innocent individuals were executed in one of America's most notorious cases of mass hysteria.
2016–Tsai Ing-wen of the Democratic Progressive Party (DPP) is elected the first female President of Taiwan.
2016–Iran releases four Iranian-American prisoners, including Washington Post reporter, Jason Rezaian, and Christian pastor, Saeed Abedini. The United States is to, in turn, release seven Iranian-Americans being held in America.
2016–Indonesia blocks access to radical Islamist websites and social media sites after the recent terror attacks in Jakarta.
2016–Austria deploys its Army on its borders with Germany and Slovenia, in the wake of surging numbers of migrants entering the Central European country.
2017–Italian eyewear maker, Luxottica, and French corrective eyewear manufacturer, Essilor, agree to a 50 billion euro merger.
2017–Ukraine sues Russia at the International Court of Justice, accusing the latter of being engaged in acts of "terrorism" and "discrimination" in eastern Ukraine and Crimea.
2017–A top Egyptian court rules against giving away the two Red Sea islands of Tiran and Sanafir to Saudi Arabia.
2017–Astronaut, Eugene Cernan, dies in Houston, Texas, at age 82. He was a naval aviator, electrical engineer, aeronautical engineer, and fighter pilot, and in 1972, was the last human to walk on the Moon.
PHOTOS TOP TO BOTTOM: Queen Isabella I; Pondicherry, India; Ethel Merman; Stirling Silliphant; Katy Jurado; Marilyn Horne; John Carpenter; Arturo Toscanini; a scene from
The Outer Limits;
Buckminster Fuller art; Peter Frampton's
Frampton Comes Alive!
album; Earl Wilson; Glenn Corbett; The Hard Rock Vault;
Capote
poster; and Russell Johnson.